Greetings, loved ones.
We are gathered here today to read another Mad Rabbit Ambassador Newsletter. In this edition, you will find tips for sharing your ambassador code and earning commission, challenge reminders, and a NEW way to earn BONUS points!
As Mr. Krabs once said, "Money Money Money."
Tips for sharing your ambassador code and earning commission
They get 20% off and you get a 10% kickback on all orders.

Here's how some of your fellow ambassadors are sharing their code and earning $$$:
Discord users Dalsalie#0948 & NinjaBug27#7531 created cards to hand out 🤘
Discord user HollyJo#0186 made a car magnet! Wow, magnetic! 😃
Other tips and tricks
Add your code to your social bio and share it each time you post.

Make sure your code is clear, distinct, and understandable when sharing it verbally or typing it out. Use bold letters or ALL CAPITALS for your promo code or link.

Take advantage of Mad Rabbit giveaways and new product launches.
Reminder: From now until September 30th, 3 lucky winners will each receive a Lucky Rabbit Golden Ticket at random which includes $500 towards your next tattoo and a 5-year supply of Mad Rabbit! Each time your code is used on MadRabbit.com, the transaction counts as one individual entry for the purchaser.
Use this as a chance to earn a commission!


👉 Congratulations to ambassador Hannah Wieman for earning the most commission this period!


New Challenge LIVE September 16th

Leave us a Numbing Cream Review on our Website ✍
We love hearing our ambassadors' feedback! To complete this challenge:
Head to madrabbit.com and give us a review of your experience using our brand new numbing cream

Take a screenshot of your published review

Upload the screenshot to redeem your points. It's that simple!

Last chance to complete these challenges before they expire on 9/16:
TikTok | Tattoo Story Day

IG POST | Tattoo Story Day

Ambassador post highlights just got a whole lot sweeter 🍭😏

Instead of just calling out those extra great posts, we've decided to reward those featured with 250 bonus points!
Nice postin', y'all! Didn't make the cut this week? That's OK! Continue posting and we will always be sure to feature your content 🥰Note: to be featured you must have a public profile.

I completed some challenges, redeemed points, and all I see is "Fulfilled" … now what? 😵
We have been notified of your reward! We will pack your reward out within the next week - please be patient as we cannot control shipping delays. Our goal is to get your reward to you within the next 14 days. Once your points have been redeemed, the status of your reward will change to "Fulfilled" after we've placed the order for your reward. There is no tracking available for ambassador rewards.

Reminder: Login to the ambassador dashboard and make sure your shipping address and PayPal email are correct as you will not receive rewards or commission if they aren't.
🚨 Important Info About Mad Rabbit Numbing Cream 🚨
We've updated our numbing cream instructions. Here's a step-by-step for maximum MAD RELIEF:
Prepare by cleaning and shaving (if necessary) the area of your tattoo before applying.

Apply a thick layer to the desired area and rub thoroughly in until fully absorbed.

Wrap the area with film / plastic wrap. The wrap activates the cream and stops it from drying out.

For maximum numbing effect leave cream and wrap on for 45 minutes to 1 hour prior to appointment.

Our Numbing Cream is also great to use for piercings, microblading, hair removal, permanent makeup, waxing, injections, etc. You can also use it when you are getting shots, blood drawn or when you are getting vaccinations.
Want to see more? Get a Tattoo with Me - with the Best Tattoo Numbing Cream!
STAY MAD,
Noah (aka: tender) & Amy (aka: Turmanator)

Have feedback? A challenge idea? Just wanna chat? Connect with us on Discord

TAG US @MADRABBIT USE HASHTAGS #MADRABBIT #COMEGETATATTOOWITHME
Try risk-free & save with the Essential Sets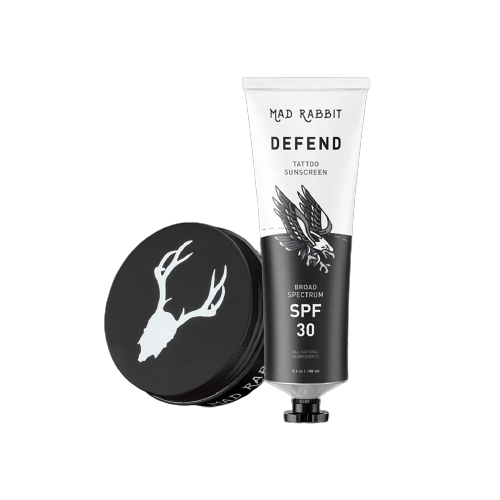 Best Seller
Daily Defense Set
Show off your tattoos in the sun and have them shining bright all day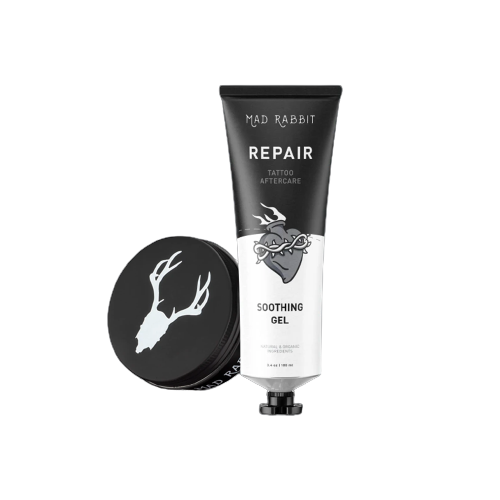 Best Seller
New Tattoo Set
The ultimate relief to heal fresh ink and make it shine