How American Tattoo Society Will Sell $100,000 of Mad Rabbit Products Through Their Tattoo Parlour This Year
07 September, 2023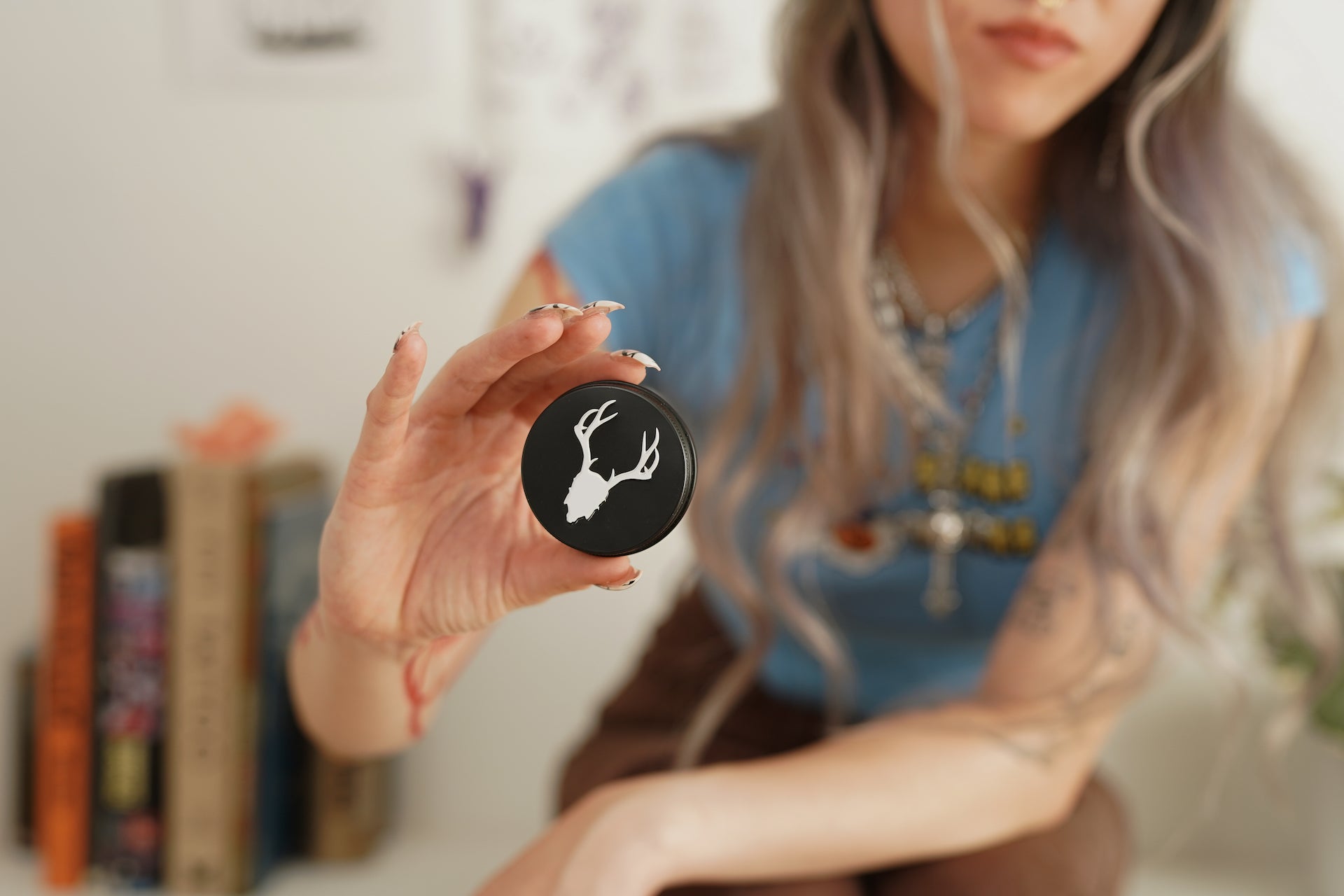 next
prev
Great tattoos are more than skin deep. For years, American Tattoo Society has built a bold reputation for outstanding artwork and leadership in tattoo best practices. In addition to technical excellence, ATS is at the forefront of tattooing in the military community, with a growing list of studio locations at military installations throughout the U.S.
Recognizing the importance of tattoo aftercare and client support, ATS proudly features Mad Rabbit products at locations. The brand will sell more than $100,000 of Mad Rabbit goods this year as artists and clients seek the best aftercare and maintenance solutions. 
Let's learn more about the partnership between Mad Rabbit and American Tattoo Society and which products are making the biggest difference.
Built To Soothe — Mad Rabbit's Bestselling Tattoo Gel
The artists at American Tattoo Society know the power of great artwork but also know that service and aftercare are crucial to the tattoo experience. That's why ATS started selling Mad Rabbit's signature tattoo soothing gel, the bestselling product in the Mad Rabbit collection. 
Even when a tattoo is applied perfectly, customers need relief to soothe swelling and discomfort and ensure a smooth aftercare journey. Mad Rabbit's gel accomplishes all this and more with just a few dabs and instant soothing relief. 
With a balanced formula and simple format, Mad Rabbit's gel is an easy upsell, with a conversion rate of 90% at American Tattoo Society. Customers are eager for a new way to care for their tattoos and enjoy the soothing, lightweight effects of the gel. 
The benefits of Mad Rabbit's gel are too good to pass up, with more than 200 units sold per month at ATS. With customer satisfaction and glowing reviews, it's easy to see why so many customers go on to buy other Mad Rabbit products. 
Breathable Relief for New Ink — Why Certain Products Don't Work
American Tattoo Society finds itself at the crossroads of old-school tattooing and next-gen techniques. Artists think outside the box to help customers get the ink of their dreams and are not afraid to embrace new, inventive styles.
With this innovative approach comes an eagerness to embrace new methods of tattoo care as well. For years, tattoo parlors have recommended petroleum-based products. After research and experience, ATS found a better approach to care with Mad Rabbit's products.
Equipping customers with Mad Rabbit's soothing gel and tattoo balm, ATS has blazed a new trail in tattoo aftercare and maintenance. Mad Rabbit's products are all-natural and petroleum-free, working with the body's built-in mechanisms to support healing.
What's the problem with petroleum products, exactly? The main issue is breathability — or lack thereof. While petroleum jellies are thick and protective, they can also disrupt tattoo healing by preventing proper oxygen exposure. The skin needs to breathe and stay bacteria-free to heal correctly, and only a lightweight gel can balance protection and healing support. 
ATS wants nothing but the best for clients, so they're leading the charge with Mad Rabbit's soothing gel and leaving petroleum-based products behind. 
Long-Term Maintenance — The Power of Mad Rabbit's Balm
When a client walks out of American Tattoo Society with fresh ink, they know exactly what to expect for the healing and aftercare process. But caring for a tattoo doesn't end when the tattoo has healed. ATS artists also offer Mad Rabbit's Tattoo Balm — a crucial product for long-term maintenance and color preservation for tattoos.
This balm differs from Mad Rabbit's soothing gel because it's meant to be used once the skin has fully healed. Once that stage is reached, customers switch from the gel to the balm to keep tattooed skin moisturized while boosting the vibrancy of the artwork. 
Once again, this product is clean and natural, creating a protective barrier on the skin with total breathability. The result is healthy, resilient tattoos that ATS customers are proud to wear for life.
Even the best tattoos can start to fade with the years, but Mad Rabbit's balm preserves tattoos from ATS for total client satisfaction. It's the second bestseller for good reason and another easy upsell for artists at ATS locations. 
Protecting Ink Investments — Sunscreen for Tattooed Skin
If there's one enemy to watch out for in the world of tattoo care, it's the sun. While moderate sun is healthy now and then, tattoos can become faded and worn down from too much UV exposure. ATS recognized this issue among its client base and stocked up on Mad Rabbit's signature tattoo SPF sunscreen. 
Protecting tattoos during the healing process is one thing — a zero-sun policy is required for proper aftercare. But once that ink is healed, customers still need to prioritize sun protection, whether on the job, at the beach, or in overcast weather. 
The sun's rays may give your skin a warm and golden appearance, but another layer of defense is needed for tattoos. ATS saw the opportunity to help customers protect their investments and used Mad Rabbit's sunscreen to help fight fading over the long term.
Since so many ATS customers are on base or enjoy the outdoor lifestyle, adding Mad Rabbit's sunscreen to the roster was a no-brainer. Now, all that hard work at the tattoo parlor will last longer, look better, and keep everyone satisfied. 
Boost Your Tattoo Business With Mad Rabbit
With a greatest-hits collection of Mad Rabbit products in the arsenal, American Tattoo Society has set a new bar for aftercare, maintenance, and customer service. 
From soothing gel to tattoo balm and specialized sunscreen, upselling on-site has never been easier. It also helps that ATS artists know the benefits of these products firsthand and don't need to be reminded of their quality!
ATS is just one example of a tattoo business that enjoyed a huge revenue boost from the Mad Rabbit repertoire. No matter the style or scale of your tattoo shop, it's all upside with Mad Rabbit's bestselling products. 
Try risk-free & save with the Essential Sets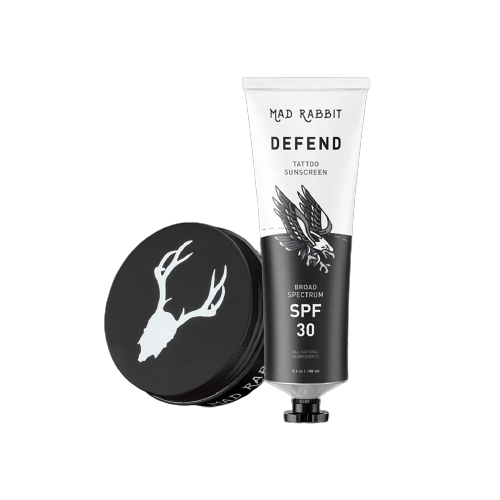 Best Seller
Daily Defense Set
Show off your tattoos in the sun and have them shining bright all day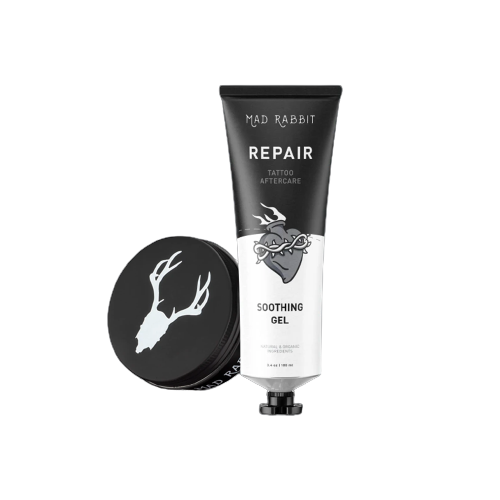 Best Seller
New Tattoo Set
The ultimate relief to heal fresh ink and make it shine