Tattoo aftercare sounds simple on paper — keep the area clean and moisturized to let the body's natural healing process do its thing. But when you've just received a new tattoo and you're dealing with irritation and discomfort, things get a bit more uncertain. 
What if you could streamline the aftercare experience and avoid some of the common issues that come with new ink? Wouldn't it be great to accelerate the healing process without a long series of steps and possible pitfalls? 
That's precisely why we created our tattoo healing patches, offering a no-fuss approach to tattoo aftercare in the first 72 hours.
Let's learn about how the tattoo repair patch works and the benefits it provides for your new ink during this critical first phase of healing. 
Why Is Tattoo Aftercare Important?
If you know anything about tattooing, you know that freshly inked skin needs all the help it can get. The skin has just undergone some serious damage from the tattoo, which penetrates through five or so layers of the epidermis. Additionally, the ink can create a minor immune response in the body, adding to feelings of irritation and swelling.
With these factors in mind, your immediate goal is to create a hygienic and healthy environment for your skin after it has been tattooed. It's an urgent care situation — there's no time to waste! This was the first inspiration behind the tattoo patch, which can easily be applied in a few minutes after the final stroke of the tattoo machine.
The concept of tattoo patch healing starts with protecting the tattoo from bacteria, dirt, and other airborne particles that pose a potential hazard to your new ink. The material is soft, disinfected, and contains a unique hydrogel matrix that moisturizes the area.
This ensures the skin stays clean, protected, and hydrated in those critical first few hours after receiving a new tattoo. It locks in the skin's natural moisture and plasma while providing additional nourishing properties when your skin needs them most.
This combo of hygiene and hydration provides a powerful one-two punch of healing benefits right off the bat. Every tattoo artist's dream is to see their artwork well cared for immediately after the session is complete! 
A Breathable Barrier for Newly Inked Skin
With a solid protective layer in place, your ink is already slated for success, thanks to tattoo patch healing. But the benefits don't stop there — this patch is also breathable, allowing your skin to navigate the natural healing process undisturbed.
While your skin doesn't "breathe" like your lungs, it requires some degree of oxygen exposure to maintain homeostasis. This is important during the healing process when blood and lymph work overtime to keep the area nourished and healthy.
Knowing this, a tattoo patch must be breathable to provide the full range of benefits, so we designed our patch with breathability in mind. Unlike the typical arrangement of cling wrap or plastic coverings, this patch allows for a healthy amount of airflow and proper overall function.
Meanwhile, the patch absorbs excess ink and plasma from newly inked skin, ensuring these substances don't build up and cause more problems. The result is a totally natural healing process combined with nourishing ingredients and just the right amount of clean moisture for your new ink.
Cooling and Soothing Comfort Effects
We know — sitting through a tattoo session isn't necessarily a pleasant experience. However, discomfort shouldn't be a problem when healing is your top priority. In fact, you want to stay cool and calm while limiting irritation on the newly inked skin, which is exactly what the patch provides.
Comfort is king when healing a new tattoo, and this repair patch offers unmatched soothing, cooling sensations for your skin. This helps to keep discomfort to a minimum while taking your mind off the irritation that comes with those post-tattoo feelings.
With ingredients like D-Panthenol and Olive Leaf Extract, our repair patch cools the area with extra support for the skin at a critical juncture. Soothe itching, aching, and other uncomfortable sensations so that you can enjoy the rest of your day after a session. 
Stress-Free Aftercare for Ultimate Convenience
By the time your tattoo is complete, your body is dealing with stress from all angles. Your skin is in red-alert mode, with all your resources flooding into the area for support. Your blood sugar is probably low; you must hydrate to restore your fluids. In other words, it's a stressful experience all around!
This is why using a tattoo patch can be such a lifesaver in those first few minutes after getting tattooed. You want to take your mind off the discomfort and stress, and the patch simplifies the process in one simple step. 
Just apply the patch, add some warm water, and peel off the top layer so your tattoo can breathe. From there, you can take a deep breath, gather yourself mentally, and simply get on with your day. 
No worrying about hygiene, moisturization, or the other minute details of aftercare. This stress relief is a huge benefit of the tattoo patch that can't be overstated. 
You can use multiple patches in the first 72 hours after receiving your tattoo, provided you clean the area between applications. This is the easiest, most reliable way to heal a tattoo without the stress that usually comes with the experience. 
Tap Into the Power of Tattoo Patch Healing
Once the top layer of skin is healed and your tattoo begins to itch and flake, the first phase is complete. You can move from the tattoo healing patch to a soothing repair gel and keep the process on track. 
From there, your only job is to keep the area moisturized and maintain the tattooed skin until it's fully healed after a month or so. Our tattoo patch is a revolutionary product for the first 72 hours of tattoo healing. This patch is just the beginning — use our full range of Mad Rabbit products to keep your ink looking great for years to come. 
Sources:
Tattoo aftercare management with a dermo‐cosmetic product: Improvement in discomfort sensation and skin repair quality | NIH
Does Your Skin Need to "Breathe"? | Allure
Aftercare Instructions in the Tattoo Community: An Opportunity to Educate on Sun Protection and Increase Skin Cancer Awareness | NIH
The Risk of Bacterial Infection After Tattooing | NIH
Try risk-free & save with the Essential Sets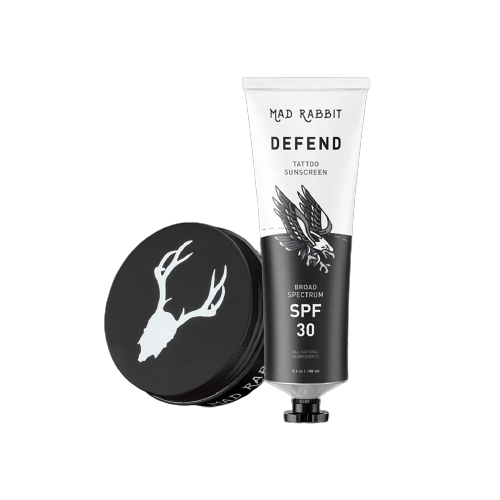 Best Seller
Daily Defense Set
Show off your tattoos in the sun and have them shining bright all day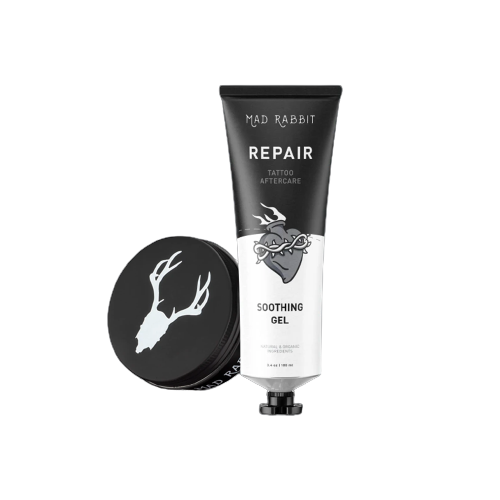 Best Seller
New Tattoo Set
The ultimate relief to heal fresh ink and make it shine