It's important to protect your tattoos to keep them looking fresh for years to come. But what products and ingredients can help protect your tattoos and your skin in a safe way?
Today, we'll cover one of our favorite ingredients for protecting your tattoos from the sun: zinc oxide. You'll learn what zinc oxide is and how we use it in our mineral-based sunscreen for skin-safe, tattoo-safe sun protection.
What Is Zinc Oxide?
Zinc oxide is most commonly found in ointments, pastes, or creams and provides protective, soothing, and astringent benefits for many skin concerns. This skin protectant can help soothe minor skin irritations, cuts, burns, and diaper rash. 
Where Can You Find Zinc Oxide?
You can find zinc oxide in many OTC (over-the-counter) skin care products and supplements, such as calamine lotion, sunscreen, and butt paste. Often, it's smart to store these products at room temperature.
Zinc oxide is also found in several other products worldwide for its different properties, including the below. Some of these products include zinc oxide powder, while others might use zinc oxide in another form.
lubricants
cement
fire retardants
adhesives
foods
first-aid tapes
rubbers
ferrites
glass
batteries
pigments
plastics
paints
sealants
ceramics
ointments
prescription drugs
dyes
Who Should Avoid Zinc Oxide?
If you have an allergic reaction or skin irritation from a zinc oxide product, you should discontinue use and talk to your health care professional or dermatologist. Additionally, you should avoid zinc oxide-based products if you are pregnant or breastfeeding.
As a disclaimer, talk to your doctor or dermatologist before beginning any zinc oxide ointment treatments if your current medications have active ingredients that might cause drug interactions. Regarding drug information, it's better to be safe than sorry. 
Zinc Oxide and Tattoos
Zinc oxide can protect any skin from sun damage, and tattooed skin definitely needs it. Let's look at the potential benefits of zinc oxide for tattoos.
How Can Zinc Oxide Benefit Tattoos?
Zinc oxide provides protection from the sun's UVA and UVB rays, which is important for keeping your tattoos vibrant, and your skin healthy. UVA rays can cause tattoo ink to fade quickly — especially white or light ink. However, even the darkest inks will fade without sun protection.
UVB rays damage the top layer of our skin and are what cause our skin to burn. Preventing sunburns on tatted skin is extremely important, especially on fresh ink. 
Zinc oxide is a key ingredient in our broad spectrum mineral-based sunscreen, which can help protect your tattoos from the sun. 
You can apply zinc oxide sunscreens to your healed tattoo when you know you'll be in the sun. While there are several different types of sunscreen on the market, both chemical and mineral, zinc oxide is one of the only sunscreen ingredients that have been determined safe and effective by the FDA (Food and Drug Administration), along with titanium dioxide. 
Mineral sunscreens that contain zinc oxide are not only safer for your skin, but they're safer for the environment. Certain chemical sunscreen ingredients are even banned in different states and countries due to their harmful characteristics. 
How We Use Zinc Oxide
We use zinc oxide as a primary ingredient in our mineral-based sunscreen to shield your tattoos from UVA and UVB rays. Our mineral-based SPF 30 is great for any skin type, inked or not — you might even find your non-tatted friends sneaking a dose of our soothing, lightweight sunscreen. 
We pair zinc oxide with other vitamins, botanicals, and antioxidants to soothe the skin while protecting it from the sun's rays. A few of our ingredients include aloe vera, which provides non-greasy moisture, and vitamin C, another antioxidant that supports skin health and natural collagen production.
We also include two key extracts in our sunscreen: carrot and chamomile extract. Carrot extract has antioxidant and antibacterial properties, while chamomile soothes skin by reducing itch and inflammation. 
Altogether, the ingredients in our mineral-based sunscreen all work together to keep your tattoos and the rest of your skin protected from the sun's rays without feeling thick or greasy. No more hiding your tatted skin on sunny days — our SPF 30 sunscreen will help your ink stay fresh and protect the skin underneath.
Other Ways to Protect Tattoos
Fresh tattoos are, in essence, open wounds, so it's important to treat them as such! You shouldn't apply sunscreen to fresh ink but should instead wear loose clothing when you're outside to protect your new tattoo.
After a tattoo heals, you should always apply our mineral sunscreen to it when you know you'll be in the sun for long periods. Additionally, avoid things like sun lamps and tanning beds. These can quickly fade tattoos, cause a reaction to tattooed skin, and even contribute to risks of skin cancer.
Conclusion
Zinc oxide is a powerful ingredient for protecting your tattoos from the sun. We pair zinc oxide with soothing antioxidants and botanicals in our mineral-based sunscreen, so you don't have to hide your tattoos away for the summer. Protect your ink and the skin underneath.
Go all in on our Starter Pack and defend your tattoos with our mineral-based sunscreen, soothe your tattoos with our all-natural calm, and repair your freshly-tatted skin with our soothing gel. If you've had your tattoos for a while, opt for our Daily Defense set for a one-two punch of ink preservation and protection.
Sources:
Tattoo Sunscreen and Other Sun-Safety Tips to Protect Your Body Ink | Healthline 
How to Take Care of Your Tattoo | Web MD 
Zinc Oxide Topical: Uses, Side Effects, Interactions, Pictures, Warnings & Dosing | WebMD
Zinc Oxide (Topical Application Route) Description and Brand Names | Mayo Clinic
Zinc Oxide cream, ointment, paste | Cleveland Clinic 
Questions and Answers: FDA posts deemed final order and proposed order for over-the-counter sunscreen | FDA
Try risk-free & save with the Essential Sets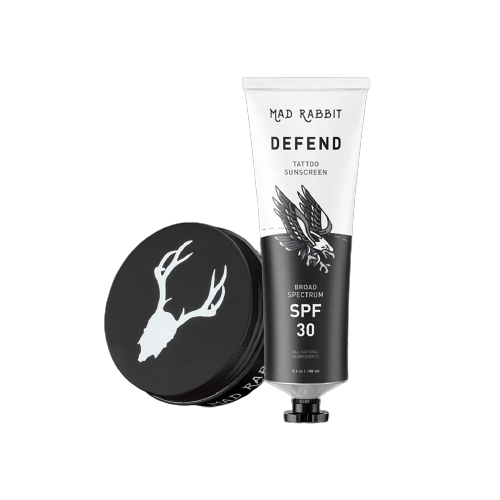 Best Seller
Daily Defense Set
Show off your tattoos in the sun and have them shining bright all day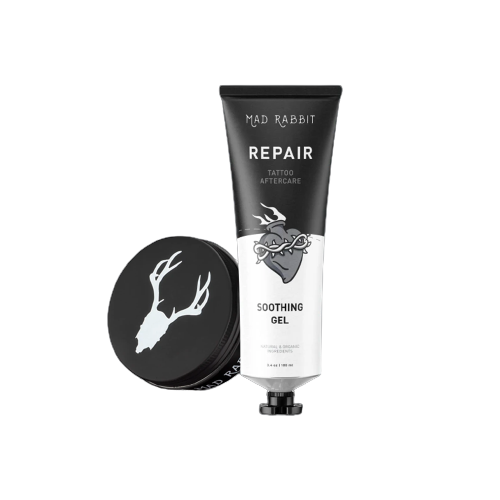 Best Seller
New Tattoo Set
The ultimate relief to heal fresh ink and make it shine