Happy New Year, ambassadors!
Thanks to each and every one of you, 2022 was a year filled with exuberant growth. With your support, we launched several new products, made some big changes to our website, were able to support some fantastic causes, and most importantly give back to our incredible community.
New Year's resolutions have long been a way to reflect on the year behind us, as well as set goals and plans for the coming year. While resolutions aren't for everyone, there's something uplifting about the idea of starting with a clean slate.  
May this year bless you with good health, love, prosperity, and loads of fun– oh, and more tattoos of course.
"For last year's words belong to last year's language. And next year's words await another voice. And to make an end is to make a beginning." - T.S. Elliot
Now, let's get into some updates 🥰
Commission Update 💰
Need help making sales? To help you out, ambassador Ashley Johns has shared some insight into what has helped secure her a spot as one of our top sellers! She writes, 
My best advice is to post on social media! I've posted on Instagram primarily and have gotten lots of sales from those! Plus it's always easier to share a product you use and love; so, just word of mouth with people as well! 😁
Thanks, Ashely! 
How have you had success making sales? Reply to this email with your tips & tricks and receive +250 bonus points!
Our top five sellers for this reporting period were:
Matthew Williams
Abbey Biegasiewicz
Hannah Wieman
Tyler Villicana
Michael Hall
Nice job, yall!
Ambassadors, if you've never logged into the ambassador dashboard, please make sure you do to check that your PayPal email address is correct. Otherwise, there's no way for you to receive the commission you've earned!
Ambassador Post Highlights 🤳
Congratulations to the following ambassadors for posting some highlight-worthy content: 
Austin Coward's

 

unboxing TikTok
Jacquelyn Ramsey's

 

GRWM YouTube short
Daniel Cascagnette's

 

GRWM YouTube short
Laura Molina's Twitter | New Years' Resolution - Happy New Year everyone! #MyNewsYearsResolution, I feel it's important to just roll with the punches and get out of your comfort zone. I'm excited to start 2023 with something new #MadRabbit! Here's to new beginnings and new blessings this year! 🎉🖤
Travis Houck's Twitter | New Years' Resolution - New Year's resolution for me this year is better self care, both mental and physical. Also working harder on getting more booking for photography. #selfcare #mentalhealth #workhard #madrabbit #mynewyearsresolution
When completing challenges, make sure your social profiles are public so that you can be featured too! Have an idea for a new challenge? Let us know in #💰│ambassador-chat on Discord.
NEW January Challenges 📝

Twitter | New Years' Resolution - The new year is a great time to brainstorm what you'd like to work on, accomplish, or do differently in the new year. Tweet out to the world what your New Year's Resolution is and tag us @MadRabbitTattoo 
Let's all tackle 2023 together and make it the best year yet!

YouTube | Get Ready With Me Short - Are you into YouTube? We are! Show us your skills and create a YouTube Short showing your morning routine with Mad Rabbit. In your #GRWM (Get Ready With Me) incorporate any Mad Rabbit product you'd like to show off! 
Brainstorm | Come Up With a Challenge Idea - New year, new challenges! We love coming up with new ideas that we think would be fun challenges for the community. But this time we want to challenge you to come up with your own challenge ideas! What would you like to see in the ambassador dashboard? What social media platforms do you like to create content on the most? Drop us your suggestions and you just may see one come up in future challenges!
Full challenge details are in the ambassador dashboard now.
🆕 Updates 
Calling all people with rabbit or rabbit-inspired tattoos - Do you have a rabbit or rabbit-inspired tattoo? If so, post them in the #🔥│flex-your-ink channel on Discord with hashtag #rabbittattoo NOW through January 10th @ 5 PM EST for the chance to be featured in an upcoming email! To sweeten the deal, 3 of you will win a Tattoo Lovers Kit.

Our NEW Booking App - Calling all tattoo artists and studios! Want more leads and new client generation? We are excited to announce the launch of our new tattoo booking platform. We want to connect our community with our artist network - this tool is a way for you to leverage free lead generation to increase your client opportunities. Reply to this email to start the sign-up process!
Exclusive ambassador swag - Have you ever wanted to match our awesome newsletter header? 😏 WELL, you can! 
Head to the ambassador dashboard on our website to redeem yours now. More ambassador swag coming soon...
STAY MAD,
Noah (aka: tender)
Have feedback? A challenge idea? Just wanna chat? Connect with us on Discord
TAG US @MADRABBIT USE HASHTAGS #MADRABBIT #COMEGETATATTOOWITHME
Try risk-free & save with the Essential Sets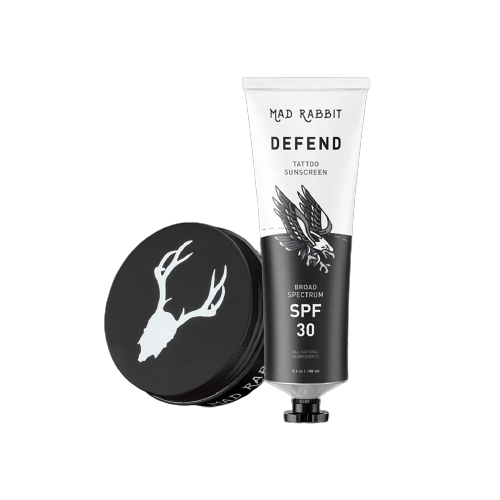 Best Seller
Daily Defense Set
Show off your tattoos in the sun and have them shining bright all day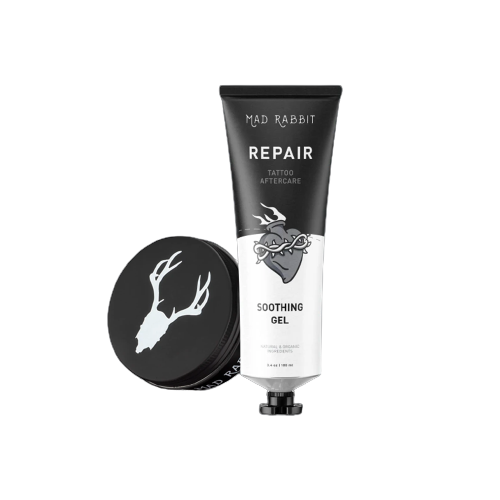 Best Seller
New Tattoo Set
The ultimate relief to heal fresh ink and make it shine